Dolce&Gabbana Eyewear Mosaico Collection
Dolce&Gabbana Eyewear launch a precious collection that references an ancient Italian crafts: micro mosaics.
Dolce&Gabbana proudly honours once more the traditions of Italian craftsmanship, and for the first time applying the art of micro mosaic to its eyewear. The roots of the process lie in ancient Rome.
The technique of micro mosaic, or filato minute mosaic, requires the spinning of the tiles that composed the mosaic, resulting in tiles that were much smaller and thinner than those used in classic mosaics.
The micro mosaic, created exclusively for the Dolce&Gabbana eyewear collection, involves masterly expertise in the spinning of Murano glass, resulting in micro tiles that are then delicately and accurately laid by hand by skilled craftsmen, a technique that constitutes the very foundation of their mosaic craft.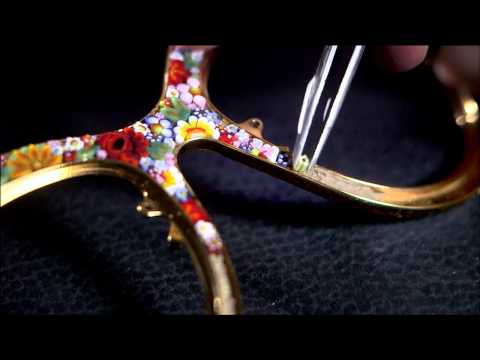 To create the floral compositions in mosaic that embellish the eyewear of Dolce&Gabbana Mosaico Collection, over thirty different filato designs were developed that beautifully recreate the leaves, pistils, and petals of the flower. The result is a true inimitable "artwork" expressing the most refined in premium luxury, and it acts as a tribute to the floral themes that are so beloved by Domenico Dolce and Stefano Gabbana, themes that are deeply embedded in the DNA of the brand.
The Collection is declined in many styles. The highly luxurious all over mosaico one (DG2136) created with around 1000 micro-tiles that embellish the front and temples. This Limited Edition is a truly unique model and a tribute to those floral themes that are so beloved by Domenico Dolce and Stefano Gabbana. The micro mosaic composition beautifully recreates different types of flowers: romantic red pansies, snow white plumeria, and the delicate hues of the pink gerberas and the lilac of forget-me-nots.
DG2136
And two more commercial options. A romantic and sophisticated round model (DG4215) featuring temples embellished with a micro mosaic insert, comprising of 600 micro tiles (300 on each temple) and decorating almost the entire temple shaft. And an elegant square model (DG4214) featuring temple detail embellishment near the hinge with micro mosaic details comprising of 150 micro tiles (75 on each temple).
It is a sophisticated and refined jewel-model that is Available in Havana, red, and black with polarised lenses.
DG4215
The collection is also available in the optical version in a variation of styles and colours.
Credits: Dolce&Gabbana Eyewear